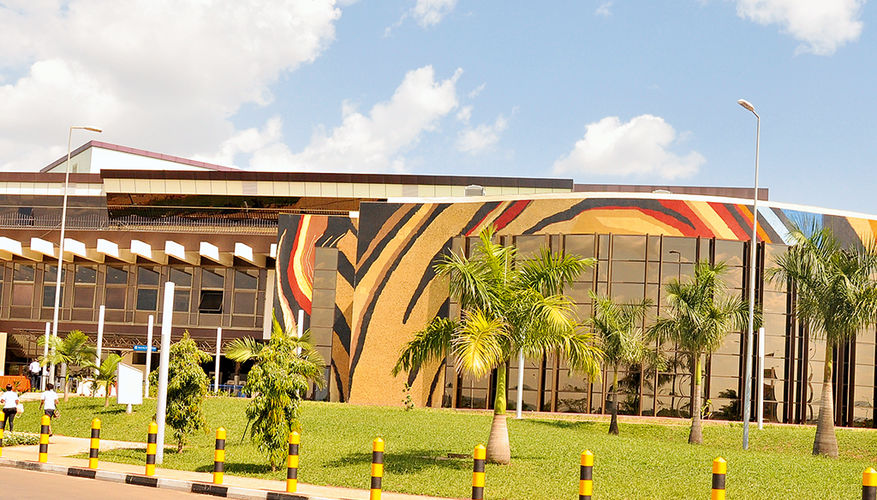 Kigali International Airport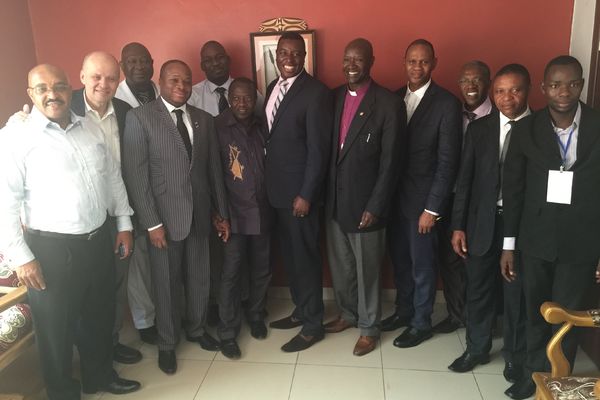 The team of apostles and prophets that served under apostle Gitwaza in Kigali
PREAMBLE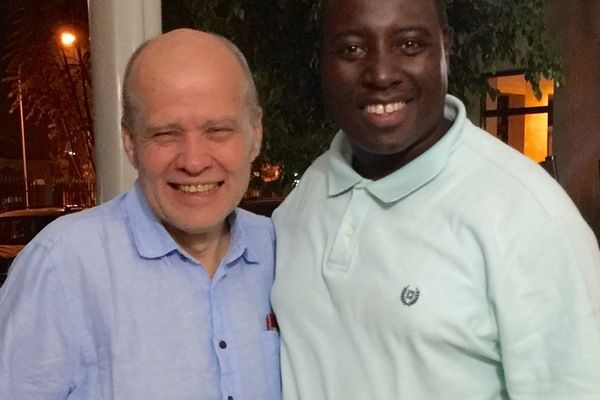 Jan-Aage Torp was privileged to serve apostle Paul Gitwaza as the only ethic white European at Kigali 2015
1. WE, the participants of sixteenth edition of Africa Arise and Shine Summit and Conference from Burundi; Belgium; Cameroon; Chad; Cote d'Ivoire; Denmark; DR Congo; Italy; Rwanda; Gabon; Kenya; Mozambique; Namibia; Nigeria; Norway; Sierrra Leone; South Africa; Spain; Sweden; Tanzania; Uganda; UK; and USA; meeting in Kigali, Rwanda from the 2nd to 8th August 2015 under the invitation of Authentic Word Ministries and Zion Temple Celebration Center
2. GUIDED by the conference theme recorded in the Holy Bible, the book of Judges, chapter six and verse fourteen which says: "Go in this might of yours" Judges 6:14
3. BEARING IN MIND that we are members of the Church of Jesus Christ who are deeply stirred by God's call for Africa to rise and shine through applying Godly principles in all spheres of influences in our society that include: family religion education governance economy media and sports and entertainment
4. RE-AFFIRMING that there is no other name by which, men, women and children must be saved apart from the name of Jesus Christ; and that He is the Lord and the savior of Africa who governs all things according to the purpose of his will and that Jesus Christ has been calling a people for himself in all spheres of society to be his servants and witnesses for the extension of his kingdom, the building up of Christ's body, and the glory of his name.
5. RECOGNISING the family as a God-created institution, we hereby COMMIT ourselves:
a. To TEACH moral values to our children consistently.

b. To ENCOURAGE good values that are in in conformity with biblical teaching in our African cultures

c. To CONTINUE TO teach the important role of the family in the society and for national transformation

d. To TACKLE seriously issues that attack the our family in this age of globalization.

e. To PRESERVE God's structure of the family and marriage between one man and one woman and fight for the unity of the family.

f. To deliberately TRAIN our children in God's values and shield them from the bad ones.
6. Boldly ACKNOWLEDGING our call to Build Kingdom Based Churches in Africa, we hereby COMMIT ourselves:
a. To TRAIN not only ministers who will serve in the Church, but also Christ disciples in the government, health sector, Judiciary, Business, Education, journalism, political etc.

b. To PREACH sermons that could affect the social, political, economic and religious realm of our nations.

c. To MENTOR the next generation by carrying out our responsibilities of reconciling people to God and between themselves blamelessly.

d. To PROCLAIM the good news of Jesus Christ the savior and Lord, with view to persuading people to come to him personally and so be reconciled to God.

e. To prayerfully INFLUENCE the world through fighting a battle of spiritual domination that control nations and influence the mentality people

f. To REINFORCE the Unity of the Church as members of one body through STRENGTHENING our deliberate collaboration.
7. CONSIDERING that EDUCATION is the central factor of sustainable transformation and development, we hereby COMMIT ourselves
a. To WORK on education system that is transformative, ethical and upholds Godly values in our nations and communities.

b. To SET UP Christian education that is contextualized for Africa and which brings solutions to African Challenges.

c. To TRANSFORM Education platform into an instrument for discipleship and sharpening the future of our nations and communities.

d. To ENCOURAGE God's based knowledge, understanding and wisdom in African schools and in curricula.

e. To CONDEMN and break away from ungodly and traditional educational system that which does not respond to the needs of Africa.
8. RECOGNIZING the need for transformational LEADERSHIP in Africa, we hereby COMMIT ourselves
a. To SERVE God and his people with sacrifice, Godly Character and right attitude.

b. To ACT more than we plan and work more than we talk

c. To CONDEMN and break away from mediocrity, vain glory, greedy, lust and arrogance

d. To BECOME visionary leaders, skilled and experiences who love their countries and continue to sharpen our skills.

e. To consistently PRAY for our political leaders so that they obey God and always put interest of their people before theirs
9. UNDERSTANDING that Christians are called to display exemplary character and attitude in business and not be involved in malpractices for business gain, we hereby COMMIT ourselves
a. To KEEP our integrity before the Lord and maintain a good testimony before p eople.

b. To CONSIDER Business as a God's missionary field , therefore Christian bus inessmen and women should consider themselves as ministers of God.

c. To create a culture of saving consistently and be disciplined in the way we con sume

d. To CREATE collaborations and networking for better business opportunities

e. To add value on everything we do through quality ENHANCING of our products and services

f. To INVEST our resources in the Kingdom of God considerably and consistently and to help the needy.
10. RECOGNISING that the World we live is full of messages, yet we have a timeless good news to share to share the world, we hereby COMMIT ourselves
a. To ENGAGE the existing media platforms creatively and use them to bring God's values in a unique and appealing way to the world.

b. To START Africa Satellite News channel that is credible and professional.

c. To ENHANCE the collaboration and networking between Christian media outlets of Africa in creating quality TV, Radio and online Christian content

d. To Actively and aggressively USE the social media to spread the good news among the users

e. To TRAIN workers and volunteers of Christian media outlets on how to use the media in setting the agenda
11. CONSIDERING that entertainment is shaping the next generation and the values of a multitude, we hereby COMMIT ourselves
a. To DEVELOP content that can fit the needs of the next generation that has short attention span

b. To START Christian recreational center to reach out to the new generation

c. To DEVELOP alternatives, where the next generation could access good entertainment products (Movies, music, etc.)

d. To ENGAGE culture and societal leaders of Africa in meaningful dialogue, cooperation and servant hood using entertainment.

e. To BE good storytellers through drama, music and movies. Every person who is intending to take the lead has to learn how to be a good storyteller.
12. APPRECIATING the organizers and the all the speakers of sixteenth edition of Africa Arise and Shine summit and conference, we commit to reconvene for the 17th edition in August 2016.
Done in Kigali, the Republic of Rwanda, on 8 August 2015