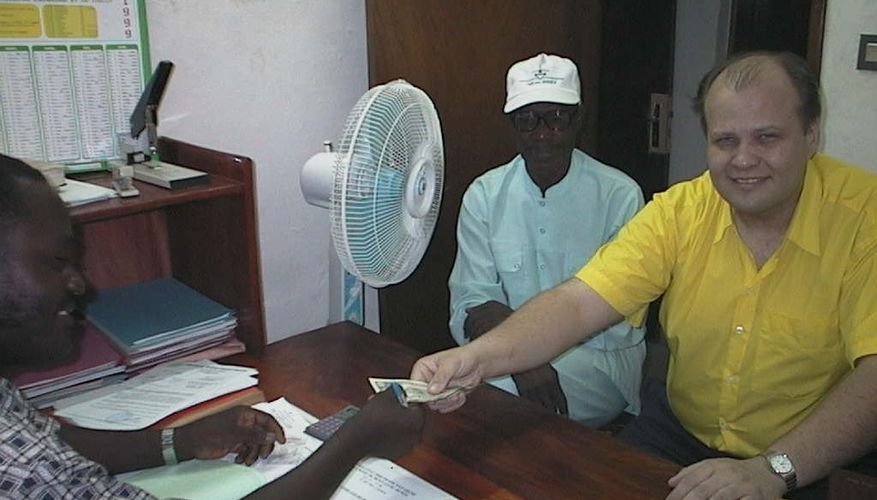 Jan-Aage invests in a microfinance-project in Cotonou
In May last year came a telephone call that I regretted that I received, but it conveyed an important message from the Lord. It was about a calling to Africa!
I have known Olav Råmunddal for some years. A good hearted father figure with many connections in the Christian world of Norway.
In 1995 the prayer general Kjell Sjöberg said to me: "Olav Råmunddal is a father figure who can help you!"
It is interesting that it is precisely Olav Råmunddal who for the past two-three years has attempted to bring me into the intricate cooperation within the Christian world of Norway. In 1997 he invited me to be a part of the Norwegian delegation at the GCOWE2-congress in Pretoria, South-Africa.
And now in May 1998, he was on the phone and wanted me to talk with his friend from Benin, Romain Zannou.
But I didn´t want to talk with anyone from Africa. I was tired, always moneyless, and had more than enough with handling life at home!
But I did receive the telephone call from Romain Zannou, who was visiting Norway and staying with Olav Råmunddal. We had a polite conversation, and Romain Zannou invited me to Benin to minister. I gave a polite and positive response, but in my heart I didn´t want to go.
Immediately when I had hung up the phone, I heard the voice of the Lord: "It is I who is calling you!"
Then I had a vision. I saw a kind of living highway in heaven between Africa and Norway. It was like a living runway full of people that constantly were moving themselves between Africa and Norway.
I heard the Lord´s distinct voice: "I am creating a highway between Africa and Norway that you will walk on. A highway of holiness, a highway of healing, a highway of restoration!"
I trembled as I was sitting in our livingroom. My whole body quiverred. I know when God speaks....
When I had been to Africa for the first time in July 1997, I received a deep love for Africa, almost so strong that I could sense that the Lord will use me.
And in November 1997 an unknowing Sharon Stone prophesied over me: "South-Africa is definitely in my plans!"
Now I have been in Benin as the guest of Romain Zannou.
What will this lead to?