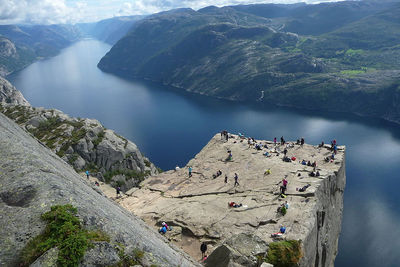 We are located in Oslo, the capital city of Norway. Aina & Jan-Aage Torp are committed to re-establish the Christian roots of the nation that is their natural home.
The photo above shows «Preikestolen», also known by the English translations «Preacher's Pulpit« or «Pulpit Rock», which is a famous tourist attraction in Forsand, Ryfylke, Norway. It consists of a steep cliff which rises 604 metres above Lysefjorden, opposite the Kjerag plateau, with an almost flat top of approximately 25 by 25 metres.
Tourism at the site has been increasing in recent years (200,000 visitors annually), making it one of the most visited natural tourist attractions in Norway.
Some Christians believe that «Preikestolen» is a prophetic sign of Norway´s historic role as a nation to preach the Gospel of God´s Kingdom to the world. Statistically, Norway is the third largest missionary sending nation in the world.