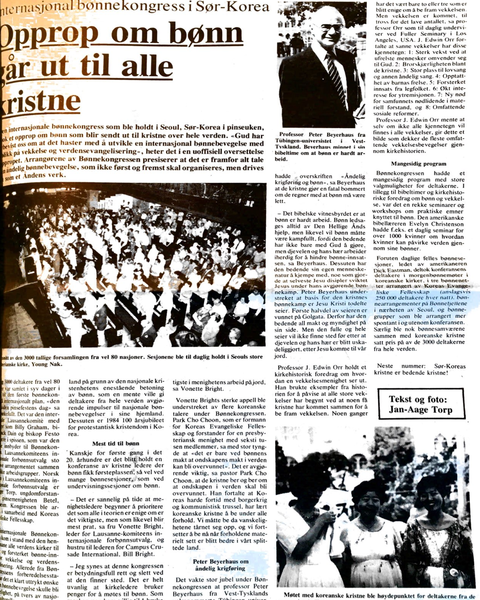 From the Norwegian Pentecostal newspaper Korsets Seier
It was the international Lausanne Committee´s "Intercession Advisory Group", led by Vonette Bright, together with Korean Evangelical Fellowship, that hosted this prayer congress that gathered 3000 delegates from every continent.
The purpose was "to generate a vision for prayer for the completion of the Great Commission among churches throughout the Body of Christ."
Every day, prayer for a different continent was featured. In addition to Inspirational and theological teaching from plenary speakers from a different continent each day, there were groups of people meeting by continent and by country in small groups to seek Cod's face in daily directed prayer sessions.
Experienced prayer leaders conducted workshops, giving instructions on enhancing one's personal prayer life, mobilizing the church to pray, encouraging city wide prayer movements and praying for worldwide, heaven sent revival. Resource people included Dick Eastman, David Bryant. Dr. J. Edwin Orr, Evelyn Christenson, Cottfried Osei Mensah, Dr. David Howard, Dr. Paul Cedar, Dr. Bill Bright, Joy Dawson, Dr. Peter Beyerhaus, and Rev. Armin Gesswein.
Special sessions were conducted for pastors, laymen, youth, women, missionaries and Christian workers, and for the blind and deaf. Each session found these people uniting in specific and strategic prayer.
The International Prayer Assembly climaxed with a Pentecost Sunday celebration with thousands of people gathering in Seoul, to unite in prayer for world evangelization. A television satellite hook up enabled churches and groups gathered in the United Stales and other countries to join the Seoul prayer meeting at the same time.
The planning committee for the prayer assembly wanted people to return to their countries having met with God and equipped to mobilize for world evangelization in their spheres of influence.
"History reveals that evangelism alone seldom results in revival, but revival always produces evangelism,' stated Mrs. Vonette Bright in the closing meeting.
"Spirit directed prayer that meets God's conditions can produce revival. Christians from all over the world have poured their energies and finances into evangelism and discipleship efforts, often with spectacular results. Yet in looking at world conditions today, we might ask why we as Christians are not making a greater impact", stressed Mrs. Bright.
In the program committee for the World Prayer Assembly, and in the Lausanne Committee´s Intercession Advisory Group, sits Jan-Aage Torp from Trondheim, Norway, together with Vonette Bright and such prayer leaders like Ben Gray and David Bryant.