A few years ago I had the joy of leading the current Prime Minister of Uganda, Mr. Amama Mbabazi, back to Jesus Christ.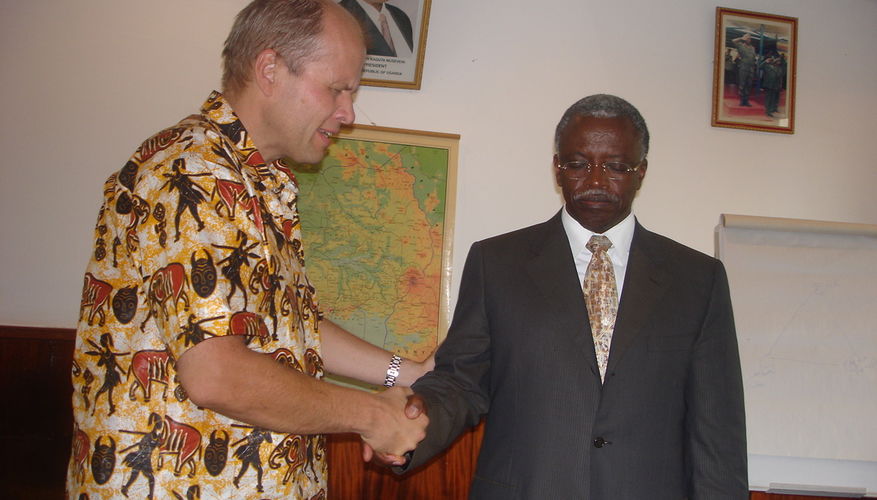 Jan-Aage leading Mr Amama Mbabazi in the sinner´s prayer (Photo Credits: Julie Simon)
I was ministering in Kampala, Uganda in 2005 when somebody wanted to connect me with Uganda´s Defense Minister, Mr. Amama Mbabazi.
Frankly, I was barely interested. I was tired after hours of ministry.
But reluctantly I consented.
A whole delegation of black suited Ugandan pastors brought me to the minister´s offices close to Entebbe.
I discovered that my informal attire of shorts and colored shirt was barely fitting for the grand occasion... :-)
The famous minister came 20 minutes late.
Mr Amama Mbabazi is famous as the great hero of the Ugandan liberation war.
My Ugandan pastoral hosts grasped the occasion to present their great ministries to the minister. They gave flaming speeches which clearly did not impress the minister.
After 10 minutes or so of polite listening, Mr Mbabazi suddenly turned the attention to his Scandinavian guest. He said: "I believe that I am supposed to communicate with my European guest" he said cautiously...
"Do you want to say something?" he asked.
I grinned sheepishly, and swallowed...
I realized that now was the time to ask the question which clearly was the only thing the Holy Spirit had asked me to say in this significant meeting.
But could I ask such a stupid question? "Do it!", the Holy Spirit nudged me...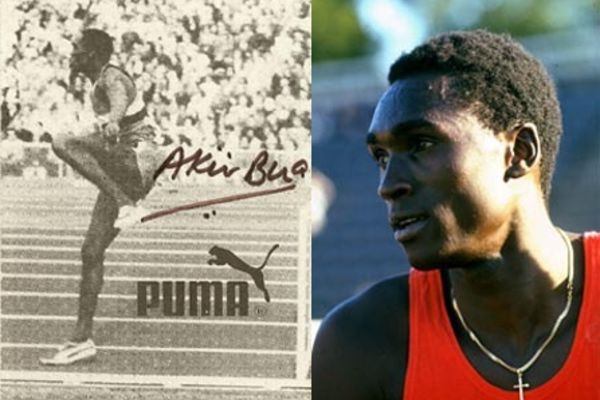 John Akii-Bua won the gold medal in 400 meters hurdle in Munich 1972 (Photo Credits: Puma)
I took courage: "Mr Minister, did you ever know John Akii-Bua?"
The silence was unbearable for a few seconds. I could feel how unimpressed my Ugandan pastoral hosts were at the white preacher from Norway. So unspiritual!!!
Mr Amama Mbabazi suddenly broke into a wide grin.
"Oh, he was my best friend! We were together on the Ugandan national track and field team! I beat him every time, until I had to retire in 1971 to take charge of the resistant movement against Idi Amin. But John went on to win Olympic gold in Munich. Do you remember John?", he asked excitedly.
"Yes, I watched him impress immensely at Bislett stadium in Oslo in August 1972 just before the Olympics. His long legs just passed those hurdles like matchsticks. Then he set the world record in Munich!"
Amama Mbabazi went on: "We were best friends. Did you know that he recently passed away?"
I nodded.
---
After this warm-hearted exchange the tone of the meeting changed totally. The minister cancelled the rest of his meetings that day. After four hours of highly interesting interaction, I was led to ask him if he would like to rededicate his life to Jesus.
With tears running down his cheeks, Mr.Amama Mbabazi prayed the sinners prayer.
A new beginning.