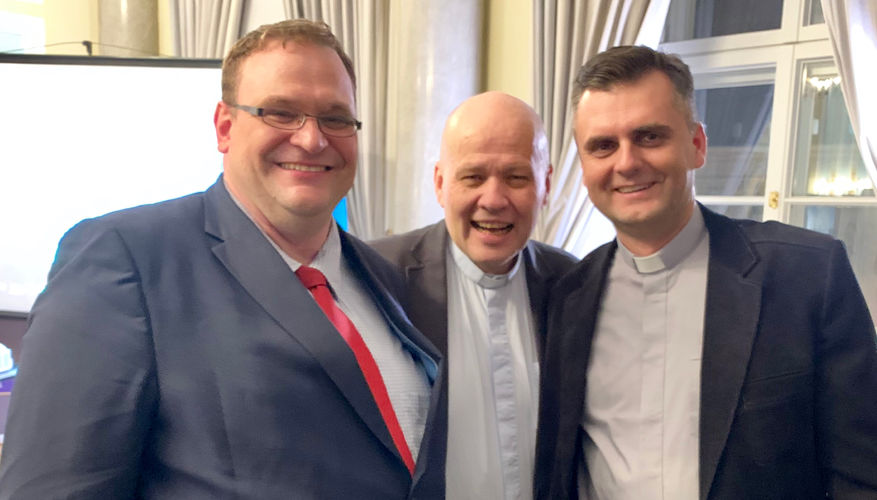 Jan-Aage Torp at the Polish Academy of Science in Warsaw today, flanked by Leo van Doesburg of ECPM and Father Jaroslaw Krzewicki, Professor of Canon Law at the Pontifical University in Rome
- It is a privilege for KKN to support two of the finest reformational movements in Europe today, Ordo Iuris and European Christian Political Movement (ECPM), states KKN Chairman Jan-Aage Torp.
- Through committed members of KKN in Norway we are able to provide some financial assistance to these movements. For me as the leader of KKN, this is particularly important, because KKN wants to model collaboration and respect in practical terms. So many organizations are blind and deaf to others, but KKN realizes that nobody can achieve victory on their own. We need the strength and vitality of each other! We support ECPM and Ordo Iuris, but the relationship is mutual. They draw upon and acknowledge our strengths as well.
- These relationships are by no means exclusive. They work with many others, and so does KKN also.
- A key factor in our mutual relationships are the personal friendships I have with Leo van Doesburg (Policy Director of ECPM) and Jerzy Kwasniewski (President of Ordo Iuris), says Jan-Aage, and with other leaders of both movements as well.
KKN has so far cooperated with ECPM both in the European Union (Brussels) and the Parliamentary Assembly of the Council of Europe (Strasbourg) as well as in Norway. KKN´s cooperation with Ordo Iuris has so far been in Poland, Romania and Norway.
KKN supported ECPM´s Israel symposium in the European Parliament in Brussels on December 6th, and is doing the same for Ordo Iuris´ seminar on the Universal Declaration of Human Rights in Warsaw on December 10th.
KKN is based in Oslo, ECPM in Brussels, and Ordo Iuris in Warsaw.
- We hope and trust that this is just the beginning - financially, practically and relationally, says Jan-Aage Torp.