The account of the Lightbearers is really the account of Lucifer´s deception in Norwegian society and Christendom during some fateful months in 1997-99.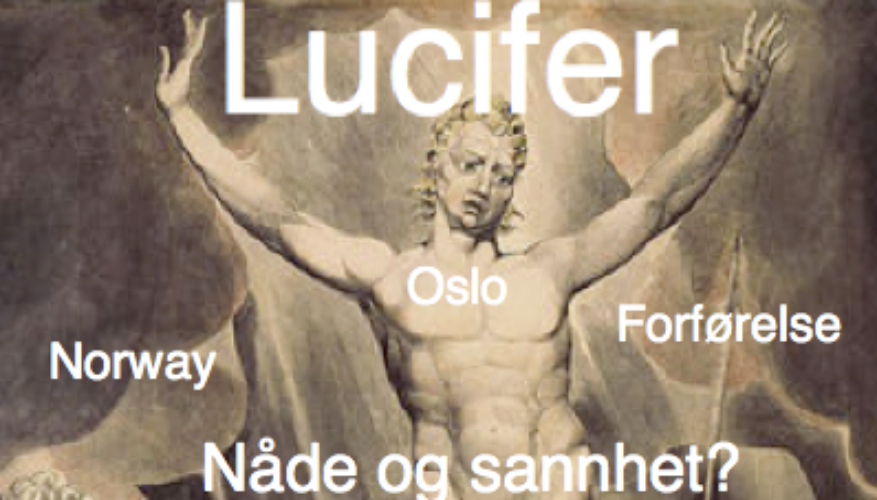 Lucifer means the lightbearer. Here is William Blake's illustration of Lucifer as is it presented in John Milton´s Paradise Lost (Illustration 2012)
Lucifer means the lightbearer. Sad to say, I was pulled into the proceedings, and I became a part of the unraveling and solution. Here is my painful summary. This account will become an important part of the history of the Christian Church in Oslo, but probably it will prove to be historical even for our nation. (I refer to the newspaper Vårt Land´s outstanding reports during the course of seven days in March-April this year.)
---
It was unreal all that had happened.
On February 18th, 1998 I was welcomed as member of the reknown Pastors Group in Oslo, led by the pastors Kjell Aasmundrud (Oslo Vineyard), Olav Garcia de Presno (Storsalen) and Egil Svartdahl (Filadelfia Oslo). I sincerely rejoiced!
At this meeting, the "prophet" of the Lightbearers, Svein Erik Hellstrøm, was invited, and he received special revelation about my important role as a "Paul" in the endtimes - worldwide. I was touched and puzzled. Spiritual flattery is dangerous!
During the course of the next six-seven months, I had experienced terrifying things that forced me to confront sin and deception, but the pastor-leaders rejected my words. However, I was taken seriously by the international leaders of the Vineyard movement, Bob Fulton, Carol Wimber, Hans Sundberg and Torbjörn Freij. They had been worried long before me. And by the prophet-leaders in Kansas City, Mike Bickle, Paul Cain and Sam Storms. And by pastor Jack Hayford of "The Church On the Way" in Los Angeles, and by professor C. Peter Wagner at Fuller Theological Seminary, who both knew me well from my study days in California in the 1980´s.
I kept quiet in a sincere effort to be obedient to the Oslo-leaders.
But the Lord didn´t want me to remain quiet. In the midst of this muddy climate that went on, I was invited to translate for the prophet-leaders Mike Bickle, Paul Cain and Sam Storms at a large interdenominational conference in Oslo during pentecost 1998. In the closing meeting on June 1st, there were 2000 people in attendance. Here, Paul Cain suddenly prophesied over me publicly about my role, and he of course knew nothing in the natural. Hear and read for yourself the exact words.
On September 16th, 1998, I sent a letter to the Pastors Group in Oslo, translated into English to the above mentioned international leaders.
On October 6th, 1998, Egil Svartdahl and Olav Garcia de Presno were interviewed by the newspaper Vårt Land, and defended Kjell Aasmundrud against his depositioning by Vineyard´s international leadership. Verbatim, they accused Vineyard for playing "church politics", "a power play between Stockholm and Oslo".
On October 7th, 1998, I was abusively scolded, unanimously, by the Pastors Group, especially by the leaders who claimed that I was lying. Afer this meeting, I answered a phone call from a Vårt Land journalist, and the day after I was correctly quoted in the newspaper, saying that the depositioning of Aasmundrud was not about church politics, but "abuse of prophecy".
On December 2nd, 1998, a unanimous Pastors Group in Oslo confirmed that I should be excluded. With no explanation. (The only exception was a member who wrote to me the day after with an outright character assassination of me.)
I wept…
On February 8th, 1999 the prophet Sharon Stone conveyed her serious prophetic dream to the pastors in Oslo. No reaction.
On March 13th-22nd, 1999 the newspaper Vårt Land published "The Story of the Lightbearers", written by the journalists Johannes Morken and Jan Eikeland. (Note January 2nd, 2012: They later won the SKUP Diploma SKUP="Foundation for a Critical and Investigative Press" for this journalistic work that filled 28 newspaper pages during the course of eight days.)
I was interviewed only once by Morken and Eikeland, on Monday, January 25th, 1999. The sources of the journalists were members of Oslo Vineyard, and some players in Norwegian Christendom. I was not the source for anything, except my own personal experiences. Everything I told the journalists was known by them in advance.
In this article series I was presented in a positive and truthful way as the man who had to cry out, "Fire! Fire!"
Suddenly, two members of the Pastors Group, Pål Brenne and Bernt André Torgussen, wrote in Vårt Land to apologize for their role in excluding me from the Pastors Group.
But the Pastors Group in Oslo has never cleaned up….