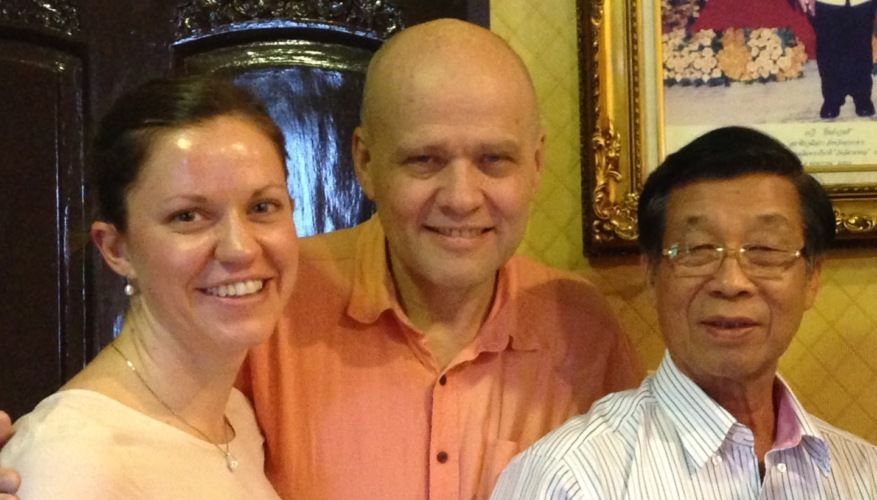 Nirut Chandkorn together with Aina & Jan-Aage Torp
A remarkable work of God is taking place in the Land of Smiles, Thailand. Nirut Chandkorn and Jan-Aage Torp have known each other since Jan-Aage was 5 years old, and now they are working together again.
- We were reunited in July when I was invited to be his translator from Thai to Norwegian at a conference in Norway. Brother Nirut was a spiritual son of my dad in the 1960´s, but after my dad died in 1983, I had lost contact with Nirut, who has developed to be one of the 2-3 leading apostles of Thailand. He invited Aina & me to come, and it was love at first sight, say Aina & Jan-Aage unanimously. They came back to Norway just 2 days ago.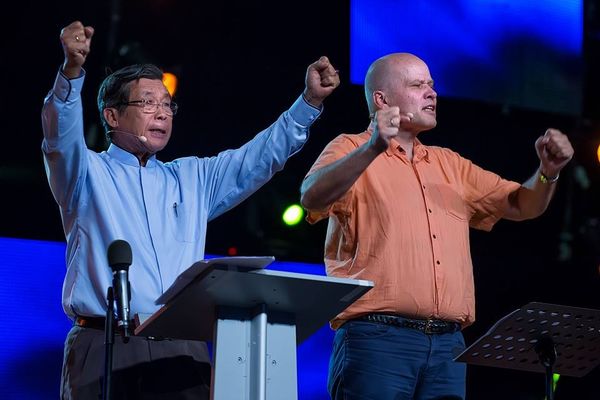 Jan-Aage translated from Thai to Norwegian for Nirut Chandkorn for 5 days in July at the great Sarons Dal convention in Kvinesdal, Norway (Photographer Oddbjørn Wetteland)
Apostle Chandkorn leads a network of 300 churches in Thailand, but has a much wider role as a senior apostle. In his home church base, Ruamnimit in Bangkok, a wide array of Thai societal leaders are members and followers of Christ, such as Senator Rawee Kingkamvong & his wife Nina. He has been a Senator and Member of Thailand´s Parliament for 23 years, and is now on the minority side of Thai politics. But at his side in Ruamnimit Church is a leading member of the majority faction in Thai-politics, that staged a coup in May 2014: 4-star military general Anand is a teaching elder in Nirut Chandkorn´s church. Rawee and Anand love the Lord together! -It is truly a miracle that they are side-by-side in church, serving Christ, say Aina & Jan-Aage Torp.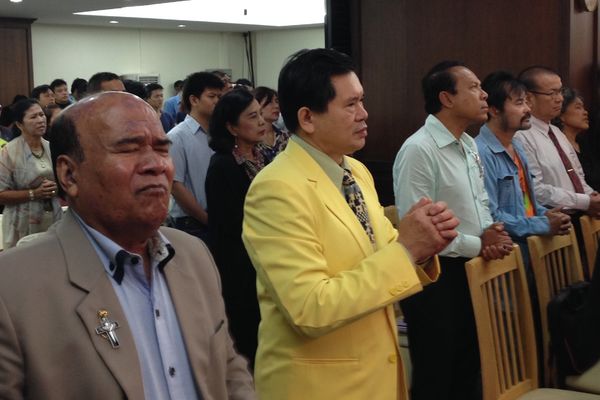 Military generals, politicians, business leaders, and commoners worshipping Christ together in Ruamnimit Church in Bangkok
There are many other leaders in Thai society in Ruamnimit Church as well, including several other military generals, politicians and business leaders.
One of them is Dr Somsakdi & Mrs Arada Viwatanat. Dr. Somsakdi is a 4-star Police General, as well as King Bhumipol´s personal, royal physician.
But most of the people are commoners who love the Lord together, say Aina & Jan-Aage who will continue to work with the youth of Thailand, but also with Apostle Nirut Chandkorn.
Top photo: The Golden Temple in Bangkok