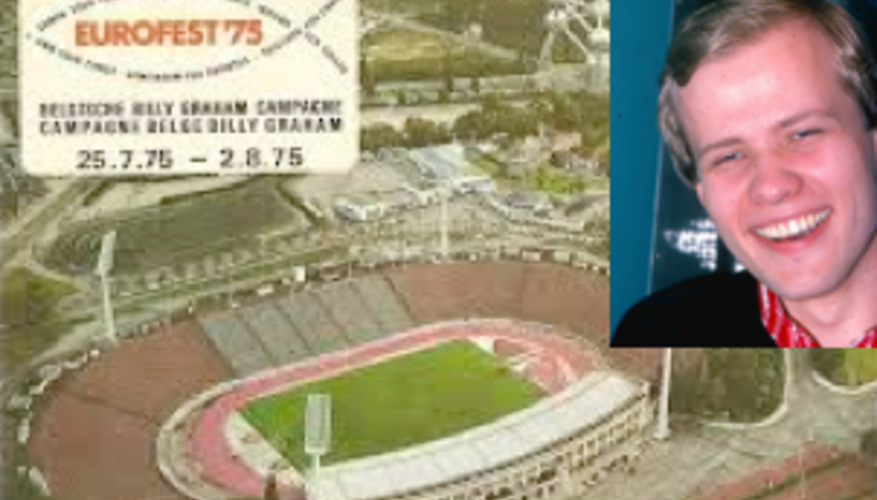 Jan-Aage Torp (18) from Filadelfia Oslo brought 75 Norwegians to Brussels
(Translated from Korsets Seier)
The International Youth Conference and evangelistic crusade, Eurofest 75, organised by the Billy Graham Evangelistic Association and the Belgium National Evangelism Committee, was held in Brussels last week. 75 Norwegians were there, and our own Jan-Aage Torp (18) from Filadelfia Oslo was in the Norwegian committee, along with Ingulf Diesen and Eivind Frøen.
Eurofest 75 gathered 50.000 young people (16-25) every night for evangelistic rallies at Heysel stadium where Billy Graham and his team preached and ministered. More than 5.000 people registered their desire to become disciples of Christ.
The event was centered around daily Bible studies by Billy Graham from USA, Festo Kivengere from Uganda and Luis Palau from Argentina, and the English singer Cliff Richard and the Swedish choir Choralerna sang. Billy Graham preached from Phillipians and taught on the connection between joy and prayer. Billy Graham said, «Young people should learn to pray».
Jan-Aage Torp is jubilant after Eurofest 75: - This has transformed our lives, he proclaims. - I have learned to love Jesus and the Bible more, and I will devote my life even more to prayer.